Photo above: the hamlet of Chazieux
Recommended by
Gites in France
Peace, relaxation, natural heritage area, plenty to see close by
A comfortable three-bedroom gîte in a hamlet in one of the most beautiful undiscovered parts of France. Open from late April to late October.



Lou Coucaye is taking

bookings for 2023.



The best of all worlds

: An ancient (and now re-developing) wine-growing area, the Haut Allier is the sunniest and driest valley in the Massif Central.
The area round Chazieux is a Natura 2000 wildlife conservation area and also a listed "art and history area" on account of its many historic monuments.



Art

. The small town of Brioude, 15 minutes drive away, is one of the most interesting small towns in France.
It has a
mediaeval basilica with unique frescoes and mosaics (and 3 stars in the Michelin guide)
and plenty of art and craft shops;
from June to October 2023 the Brioude
Contemporary arts centre
will be home to
major art exhibition
(to be announced)
, following acclaimed exhibitions featuring Picasso (2022), de Stael (2021), Miro (2020) and Chagall (2018)
. In July,
Brioude will celebrate the 10th International Watercolour Biennial, one of Europe's leading watercolour events.
Music

the Haut Allier probably has a richer summer classical music programme than any other part of rural France.
Over July and August, there is a choice of up to 40 concerts in historic churches and other locations - from full orchestral concerts to piano recitals, smaller ensembles duos and choral concerts. Check out the
programme



Exploring

There is so much to see and explore in the area around Chazieux. Among popular excursions are a choice of three tourist trains in the Haute Loire, the funicular to the top of Puy de Dome, the Auvergne volcanoes (they are not active!), and many castles and historic monuments.


Hiking and mountain-biking

Explore the area on foot or on mountain-bike, with marked trails directly from the village.
In the hamlet of Chazieux

,

peace and quiet

is just one among many assets.
As well its magnificent and unspoilt

natural environment

, the area round Lou Coucaye is one of France's original 41 officially designated

Art and heritage areas

, thanks to its rich heritage of mediaeval castles, churches, and unspoilt villages. In addition, the area offers a wealth of opportunities for

outdoor pursuits

, walking, river swimming and biking, kayaking or fishing, bird-watching or botany.
Lavoûte C.hilhac, officially designated as one of the "most beautiful villages in France" is 6km on foot or by bike, 12 by road
15 km from Lou Coucaye,

Brioude

, the local market town, is one of the most attractive small towns in France, with a weekly market and some excellent restaurants.... Yet being off the busy tourist trail, it has kept its character, unlike many of the more famous small towns in France, which are now just tourist traps. Its 12th century St Julien's basilica was recently awarded a Michelin three-star rating, the top rating in the famous "Green guides" scale.
The "Brivadois" is one of the drier parts of France, with 2200 hours of sunshine a year, and is also an area where there is plenty to do even on a rainy day. As well as the beautiful natural environment, in July and August, there is an extensive programme of evening concerts in the historic churches and chapels of the Haut Allier - many with top class performers.

Details
This tastefully restored farm cottage gîte is in a small and friendly hamlet in the rural area of Saint Ilpize, in the heart Auvergne's beautiful
Haut-Allier
valley, 90 km. south of Clermont Ferrand. The stone-built gite has been carefully and attractively restored. The hillside behind (starting just behind the house) (
map
) is a class 1 nature reserve (ZNIEFF type 1 - French equivalent of a class 1 SSSI) . The area is a haven for nature lovers, with its wealth of wildlife - birds, mammals and plants - including eagles, deer and even small wild prickly-pear cacti. And the valley still has some of the old terraced vineyards that made it famous in past centuries. A short walk from the village is a small heritage vineyard, conserving many old varieties of vine, and just beyond it the impressive mediaeval castle of St. Ilpize.
Chazieux is at the end of the road, and there is hardly any vehicle traffic in the village. The only traffic jams occur when the road is taken up by a flock of sheep. Guests at Lou Coucaye are welcomed with fresh flowers and maybe also fresh vegetables from the garden. Click for
panorama of the village
(high resolution jpg photo)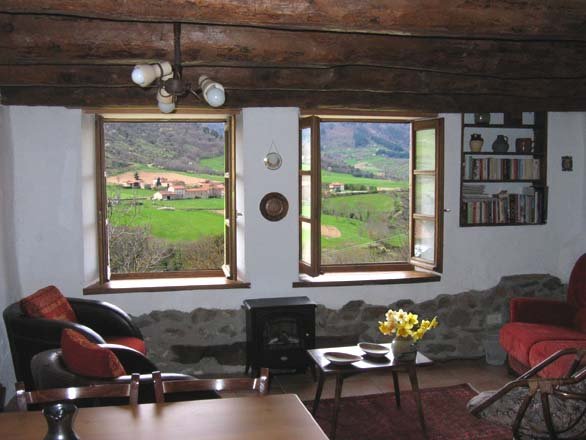 Ground floor
a spacious living area with dining table for six, and comfortable chairs, under a beamed ceiling. The two windows look out over the valley, with views down to the river and up to the hilltops opposite. There is a semi-enclosed kitchen area with gas cooker, fridge-freezer, microwave, top-loading washing machine and cupboards.
There is also a toilet with wash-basin, and a cloakroom under the stairs. The front door gives onto a large stone paved terrace, with chairs and a table for al fresco dining, with views over the valley and up the hillside behind. This area tends to become the main living space for visitors during the summer months. Throughout the summer, it offers sunshine and shade. There is adequate shade in the heat of the day, but the full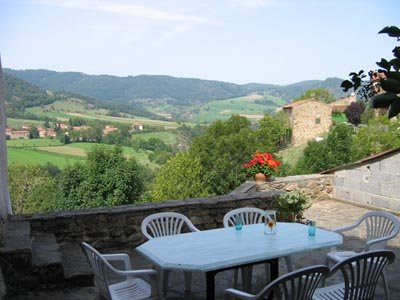 Stone paved patio with sunshine and shade
La terrasse en dalles de pierre, avec soleil et ombre
terrace, facing west, catches the early evening sunshine. The
first floor
contains the main bedroom (pine floor with rugs): one double bed, built in wardrobe; the window looks out over the valley. The adjoining bathroom has a full-size bath with shower, plus second toilet and washbasin.
The
second floor
has two bedrooms, one with a double bed, the other, under a sloping wood panelled ceiling, with two single beds. The double- bedded room has windows facing up and down the valley; the single bedded-room, has a secured floor-level window with views down to the river, and a skylight. This room, with its selection of toys and games, is ideal for children, but suitable for adults too. Both second-floor rooms have fitted carpets. All bedrooms have curtains, not shutters.
Further details :
Lou Coucaye is the white house, centre left
Lou Coucaye est la maison blanche, centre gauche
Lou Coucaye has.........
Broadband Internet access (Wifi and ethernet connections) , DVD/CD player and LCD monitor. (Some DVDs can be borrowed)
Books in English and French, books about the region,
Toys, books and games for children,
There is generally mobile phone reception in the gite, or (for some phones) outside. .....
The river is popular for fishing (fly or coarse fishing) kayaking and swimming, and the area abounds in historic monuments....
And of course, it is also a wonderful spot for those who just want to relax......
►
►
►
More photo galleries
Guestbook
"Wie alle Besucher vor uns haben wir uns in Chazieux sehr wohl gefühlt! Besonders haben wir die Ruhe genossen. Es war unser erstes Urlaub in der Auvergne, a ber bestimmt nicht unser letztes. Vielen Dank für Eure Gastfreundschaft ! (Like all your visitors, we really enjoyed our time. We particularly appreciated the peace and quiet. It was our first trip to Auvergne, but surely not our last one. Thanks for your friendly welcome ! )"
Sandra & Jochen, Darmstadt, Germany
"We marvelled at the vallée, the villages and the volcanoes, did the butterfly walk, saw chateaux, abbayes, puys, églises, and still found time to play tennis. And above all we met wonderful people wherever we went, or if we just stayed put. Thanks Andrew & Ginny for your warm hospitality and advice. Lots to do when we come back."
Bruce & Jenny, Sydney, Australia

"Two black kites showed us the way from Saint Ilpize, a fitting beginning for two weeks full of birds, butterflies, plants, and above all sunshine. We all love it very much here. Chazieux is an ideal place if you want to spend some time in a quiet place with incredible wildlife"
Sandra, Rinke and family, Newcastle, England

"Pour la troisième année consecutive, nous voici en vacances à Chazieux. C'est avec un très grand plaisir que nous avons retrouvé le gîte, sa terrasse, et son paysage splendide, la baignade et la pêche dans l'Allier. Nous reviendrons ... (For the third year in a row, here we are again on holiday in Chazieux. We're delighted to be back in the gite, with its terrace and splendid countryside, the swimming and the fishing in the river. We'll be back again..... ) ."
Famille George, Lyon, France

"Wonderful week at Lou Coucaye – think we only scratched the surface of things to see and do, but we did manage Puy Mary as well as the train trip down the Allier gorge, well worth it! Going back very relaxed !
Alan & Mary, Worcestershire, England

"What luck for us to discover this unspoilt corner of France. Coming in Spring, we must have witnessed one of the most beautiful times in the valley; magical greens of the beeches and birches on the hillsides, the wonderful meadows of grasses, cowslips, orchids, even narcissi, flowers of the wayside, broom in bloom, and the sound of birdsong... We heard hoopoes, nightingales, bonelli's warbler, and saw kites, short-toed eagle, harriers and honey-buzzard. The gîte has been a delight, and the weather always dry...."
Jeffrey & Mary, Surrey, England


"A very special holiday has been enjoyed by us all. Children loved the beach and searching for wildlife along the river. We have seen eagles, deer, kites, hoopoes, lizards, red squirrels, and much more. A nature-lover's paradise. Fantastic walking and breathtaking views. The gite is comfortable and clean... and we hope to return."
Sally & Martin, Surrey, England -
"We have seen enough and enjoyed the special beauty of this part of France to know that we want to come back; and we have appreciatd the warm hospitality, the cosy comfort and so many other aspects of this gite and hamlet."
Mary & Norm, Kalamazoo, Michigan USA -
"Spent a very pleasant relaxing week enjoying the views and the surrounding area. The gite was comfortable and well equipped, with a spectacular view. Thankyou very much"
Anne & Dave, Yorkshire, England 2006
"Lovely relaxing week; we especially enjoyed walks around the gite, down by the river and around the hills. the gite was very comfortable and ha everything we neded; the barbeque was well used."
The Dales family, Essex England
"We've had a lovely stay in Chazieux. What a beautiful part of the world this is! We've seen beautiful sights, and we feel rested! We walked to St. Ilpize every day, and we loved the river route back. Thanks so much for your generous hospitality and your wonerful gite."
Sheila & Jeremy, Vancouver, Canada

"We enjoyed our two weeks' stay at wonderful Lou Coucaye. The view from the gite was breathtaking, and every day was a joy to behold. We will always remember the friendly people, the region, the gorgeous food and of course the excellent wine. We thoroughly enjoyed our stay. Thank you!"
G & S . Staffordshire , England
"We really had a lovely time at Lou Coucaye. It was a really regenerative holiday. We also much appreciated the fact that the house was so clean and also well equipped. We have stayed at many cottages both in France and England and some have been neither clean nor well equipped! It was a delight!"
Dr. S.W. Yorkshire, England.
" Just to say how much we enjoyed our week in your gite from 13 to 20 September. We were lucky because the weather was perfect with hardly a cloud in the sky all day every day, and starlit nights. Apart from a day visit to Puy Dome, and necessary shopping, we hardly used the car at all enjoying the peaceful and beauutiful surroundings."
Adrian, Southampton England

"We are now back in Sweden, after a very good time in your Gite. We felt very well, all the time. Oh yes, at day after arrival, the skies opened and we got some centimeter of rain, but only that day, the rest was very fine. We saw Le Puy, Thiers, Clermont Ferrand, Cantal and of course the nearest surroundings. Thank you very much for a nice time."
Kjell, Vänersborg, Sweden

"We are back from our glorious honeymoon in Chazieux and we wanted to thank you so very much for an absolutely delightful location to spend our first days of marriage. We took great care of your place and I hope that you have found it in great shape after our use.
We found the information on the bookshelf very helpful and we were able to travel around quite a bit.. The kind lady and gentleman that live in the grey house at the centre of Chazieux recommended some great day excursions so we were able to see Brioude, Lavoute Chilliac, Ally, Ruynes de Margeride, Viaduct du Garabit, Murat, We drove as far as we could get to Puy Mary but the road was shut because of (May) snow but we made it pretty high. We visited Le Puy en Velay. We did spend a lot of time, however, just enjoying the gite and the surroundings of Chazieux.. The wild flowers were beautiful and the weather was great. It is a little piece of heaven and we really hope to return some day - sooner rather than later!!"
Kathy, Toronto .
"May 2006 - "Had a wonderful relaxing two weeks. Everything we needed was here, and the location is fantastic. One of our best holidays....... We will definitely be back".
J & C , Northants, England